{{{}}}
Biographical information
Homeworld

Earth

Physical description
Species

Gamer/Lombax

Gender

Male

Height

5ft 1in

Hair Color

Yellow

Eye Color

Green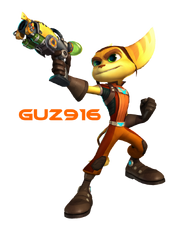 GUZ916
is a character in
Ratchet & Clank: All 4 One Super Trio
and the third member in the Trio of Heroes. He's the fighter and is usually prone to cussing, though he's usually stopped by emrak before swearing. He argues with emrak about battle plans.
Personality
Edit
GUZ916 is pretty cool-headed, but if you make him mad, he always will resort to fighting, hence his nickname "The Fighter". He loves to use very, very, VERY destructive weapons, such as the Devestator or Gravity Bomb.
"That's a load of bu-!"
"What the Bomb Launcher?!"
"You'd forget your head if it wasn't screwed on. Ha ha ha...heh heh... Sorry, too soon?
"Hey you! Has your face met my wrench? No? Well let me introduce you two!"
"My trigger finger's gettin' itchy..."
"Gonna make like Sonic the Hedgehog, and dash!"
"I'm not a lombax! I'm a...lynx? No, bobcat. No, tiger! No...eh let's just stick with lombax."
"I hope that Loki dies in a electric storm."
Ad blocker interference detected!
Wikia is a free-to-use site that makes money from advertising. We have a modified experience for viewers using ad blockers

Wikia is not accessible if you've made further modifications. Remove the custom ad blocker rule(s) and the page will load as expected.