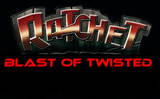 Ratchet: Blast of Twisted
(Also known as
32-bit Ratchet Adventure
in PAL regions) is a 2D Action-RPG adventure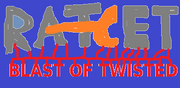 game developed by Insomanic for the Playstation Network. The graphics are 32-bit (resembling GBA's graphics.) The plot is about Porfessor Fanerious (an early prototype of
Dr. Nefarious
) who created a shock wave that crossed the entire Solana Galaxy, making everyone in it turn completly evil. only Ratchet & Captian Qwark escaped the shock wave, leaving Ratchet to return things back to normal. And once the game is beaten, a special mode called
All 4 One 32
is unlocked. It is a multiplayer game just like
Ratchet & Clank: All 4 One,
but there are 4 Ratchets, instead of Ratchet, Clank, Quark, & Nefarious.
The mixes some Zelda Minish Cap elements (Puzzles, Exploration, Battling) with some Ratchet and Clank ones (Weapons, Theme, Humor.) There are 4 areas of the galaxy there are to explore, each having 4 planets, with each one having 3 dungeons, giving a total of 16 planets and 48 dungeons. This game is most notably the first Ratchet and Clank with a Game Over (getting one means running out of NanoTech), other titles in the series give you unlimited lives unlike this one.
If you would like to learn about the bonus game All 4 One 32, click on the link before to read about it.
Ad blocker interference detected!
Wikia is a free-to-use site that makes money from advertising. We have a modified experience for viewers using ad blockers

Wikia is not accessible if you've made further modifications. Remove the custom ad blocker rule(s) and the page will load as expected.