Ratchet & Clank DS is a R&C game released only in Europe.
Advertisement: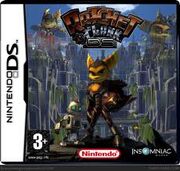 "Did you enjoy Ratchet & Clank, Ratchet & Clank: Locked & Loaded, Ratchet & Clank 3, and Ratchet: Gladiator on your PlayStation 2 system? Do you want to play them on the go? Do you have a Nintendo DS or Nintendo DSi? Well guess what? Your favorite dynamitic duo is BACK, but this time, they're on the go! Join Ratchet & Clank in their first 4 adventures on the DS systems! Plus if you pre-order, you'll get new multiplayer skins in Gladiator and R&C 3 and you'll start off with 7 special bolts in each game! AND you'll start off with 10,000 bolts in each game, too! Ratchet & Clank DS; coming to you, October 15, 2008!"
This page used to be a blank page entitled Ratchet and clank DS, but I (Ratchet941) made it into a better page, so now it's techically mine now.
Ad blocker interference detected!
Wikia is a free-to-use site that makes money from advertising. We have a modified experience for viewers using ad blockers

Wikia is not accessible if you've made further modifications. Remove the custom ad blocker rule(s) and the page will load as expected.