This article, Ratchet & Clank Fusion, is property of Darkflich.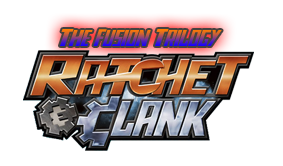 Ratchet & Clank Fusion
or
The Fusion Trilogy is a trilogy of games in the Ratchet & Clank series. It started off with Ratchet & Clank Fusion: United Forever, followed by Ratchet & Clank Fusion: Dimensional Problem, and ended with Ratchet & Clank Fusion: The Last Exit. After The Last Exit, the main series is continued with Ratchet & Clank: Dead or Dead
Fusion storyEdit
Dr Nefarious waiver to be evil, and binds to the Q-Force, but Lawrence is angry with him and by creating a Blaster that combines all. He conbines Klunk with Reactor and Klunk use the Blaster on Ratchet, Clank, Qwark and Nefarious, making Clanchet & Dr Nefqwark. Now the Heroes must defeat Klunk in more than one occasion and save the dimensions.
The European versions of the games don't carry the "fusion" subtitle and is called "Clanchet & Nefark"
The Ratchet & Clank Fusion saga was originally due to be titled "Ratchet & Clank: Amazing Team" but made a shorter title.
Dead or Dead is considered a Fusion series game on some websites, though it is not titled as such.
Ad blocker interference detected!
Wikia is a free-to-use site that makes money from advertising. We have a modified experience for viewers using ad blockers

Wikia is not accessible if you've made further modifications. Remove the custom ad blocker rule(s) and the page will load as expected.