Sprocket
was the popular name for the character Ratchet 2 from
"Ratchet: Deadlocked".
He was on the cover for the Japanese of "
Ratchet & Clank 4th: Giri Giri no Giga Battle"
(which was the Japanese name for Ratchet: Deadlocked). He had blue Marauder armor and had different colored armor. He is also a character in
"Ratchet & Clank: Rise of Infernox
/
The Ratchet & Clank Inferno Trilogy"
. In the books, he'd use weapons similar to Merc and Green's.
Sprocket is also a 2 book series talking about his adventures before meeting Ratchet & Clank.
Weapons he's uses in the trilogy:
Flux Pistol (V2: Flux Cannon, V3: Elite Flux Cannon)
Bogo (V2: Bongo, V3: Elite Bongo)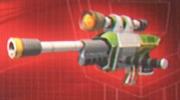 Ad blocker interference detected!
Wikia is a free-to-use site that makes money from advertising. We have a modified experience for viewers using ad blockers

Wikia is not accessible if you've made further modifications. Remove the custom ad blocker rule(s) and the page will load as expected.