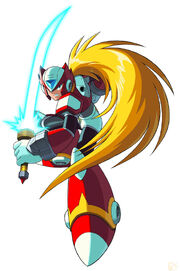 This is copyrighted by capcom .
WARNING DO NOT EDIT THIS PAGE OR ELSE BY THE COURTESY OF JEGAMAN THANK YOU.
Biography
Edit
A super powerful fighting robot not to be confused with that show he is Zero the most epic thing in the megaman franchise he was made by dr willy to the ultimate killing machine until he gave a deadly virus to sigma why play megaman x4 and you will understand anyway this guy was saved the world even more than x . One day he finds a portal and it leads to the ratchet and clank universe.
Reception
Edit
When it comes down to him and sephiroth i would pick this guy over him anyday because like sephiroth he suffers from the emo sydrone because his soul his wounded bad and he keeps getting dreams about his creator.
Ad blocker interference detected!
Wikia is a free-to-use site that makes money from advertising. We have a modified experience for viewers using ad blockers

Wikia is not accessible if you've made further modifications. Remove the custom ad blocker rule(s) and the page will load as expected.